facebook event
When:
9AM to 6PM,
Jan. 26, 2013
Where:
Tattnall County
High School,
Highway 23/57 South,
(1 Battle Creek
Warrior Blvd)
Reidsville, GA 30453
Registration:
Is closed! PDF, Word
$30 before Jan. 15;
$45 after.
Includes lunch.
Important Announcement: The Growing Local conference is FULL and REGISTRATION HAS NOW BEEN CUT OFF. Please pass the word. If anybody is interested in the 2014 conference, please email redearthfarm at yahooooo and we'll get you on the notification list.
Many do-it-yourself workshops in homesteading and country living: mushroom culture, beekeeping, backyard chickens, soil-building, small fruit production, economics, gardening for wildlife, charcuterie, natural cleaning, fermentation, herbs on the menu, natural cleaning & body care products, making jams & jellies, vermiculture, weed management, marketing, everything you need to know about small farming. Ladies Homestead Gathering, seed-saving. And so much more....
Conference actually starts on Friday with a potluck, reading & a showing of the film "Grow."
For more information see Registration on the left here, or email redearthfarm at yahoo.
Gretchen Quarterman will be giving a workshop at the Growing Local conference: Beginning lesson on home made jams and jellies. What you'll need (not much) to start making delicious sweets from fruits that are easily available.

Inspirational gardener & naturalist Ellen Corrie of Tifton, Ga. will be teaching a workshop on Gardening for Wildlife at the Growing Local conference Jan. 26. This presentation will look at how gardening for wildlife makes your garden (whatever size) healthier and helps restore habitat and preserve biodiversity. There'll be an overview of factors which need to be considered to attract and keep any wildlife or beneficial general. I'll focus on pollinators and specific practices and plants to attract them. — with Leeann Drabenstott Culbreath and Dan Corrie.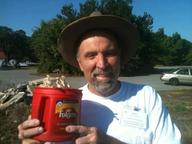 Albert Kipple Culbreath will be teaching a Mushroom-Growing Workshop at the conference. Inoculation and care of logs for production of shiitake and oyster mushrooms. Will include information on where to obtain supplies, how to handle logs, which type logs to use, care for the logs, and culinary uses. Sign up now. — with Leeann Drabenstott Culbreath.