This is a McCoy turpentine cup collected some time back from my property.
As you can see, it is folded metal, so far as I know galvanized steel, although quite rusted.
Another of those is what you see the remains of on the fallen catface.
They are almost never intact, because they are usually turned up after logging or mowing for firebreaks.
Here is a picture of this kind of cup in use in about the same period, the 1930s.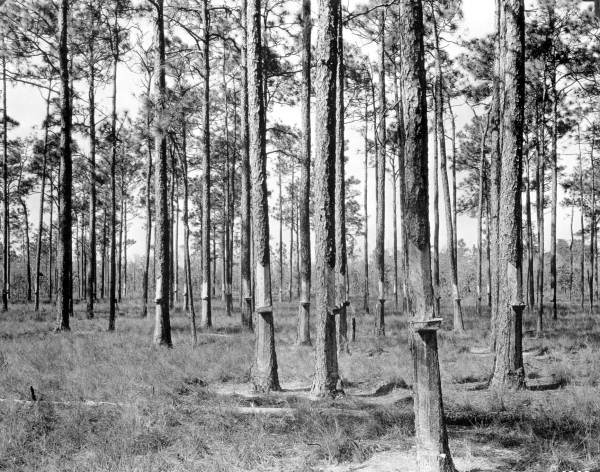 A stand of turpentine pines fitted with McCoy collection cups – Dixie County (?), Florida circa 1930, public domain –Florida Memory, accessed 20 March 2022, https://www.floridamemory.com/items/show/35551.
I never heard it called anything but a turpentine cup, but below is some history that shows why I think it was a McCoy cup, made the the McCoy Turpentine Cup Co. of New Orleans, LA, and Goulding, FL.
Industrial Development and Manufacturer's Record, Volume 51, March 7, 1907, via google books,
New Orleans, La.—Manufacturing Plant.— It is reported that the McCoy Turpentine Cup Co. will establish plant for the manufacture of galvanized turpentine cups used in extracting turpentine from trees. Mr. Vizard of the Gallican-Vizard Turpentine Co. is also interested.
Paint, Oil and Chemical Review, Volume 50, 1910, google books,
Fire on September 1 destroyed the plan tof the McCoy Patent Turpentine Cup Company at Goulding, Fla., causing a loss of about $2,000, partially covered by insurance. The fire orignated in some waste and could not be checked, inasmuch as there is no fire protection at the point where the factory was located. The plant was a small one, and will be rebuilt on a more extensive scale.
Goulding is closer to where I am than New Orleans, so maybe that's where these cups came from.
-jsq
Short Link: