Quail Hollow Farm was holding a Farm-to-Fork dinner for invited guests, when a health inspector showed up and forced them to destroy the food.
In this
video of the event
you can hear the arrogance of the inspector:
That's all the information you need.
Well, no, it's not.
The inspector said it was a public event because the guests had paid for d inner.
The farmer eventually called their lawyer who said ask the inspector to see her warrant. She had none.
But they had already been told their food that they grew with their own hands was not fit for a public dinner, nor a private dinner, not even to feed to their pigs. They were forced to pour bleach on it, making it unfit even for compost.
Given that every food contamination recall in recent years has come from big factory farms, not from small organic farms, does this raid seem right to you?
The farm sells food to restaurants, and had a truck full of that food ready to roll. They opened it up and cooked that food instead. So they managed to feed their guests by using their stock in trade. But why should they have had to?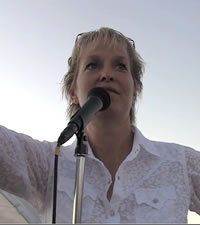 Here's the detailed report by Laura Bledso for Farm-to-Consumer Legal Defense Fund, 24 October 2011, Farm-to-Fork Dinner Fiasco
As Kimberly Irence asks in the video:
Who owns America now?
Thomas Jefferson wrote in 1776:
"He has erected a multitude of New Offices, and sent hither swarms of Officers to harass our people, and eat out their substance."
—Declaration of Independence
-jsq
Short Link: