At the far side of the pond, Yellow Dog spotted a moccasin before anybody else. The small but deadly Agkistrodon piscivorus didn't stand a chance against the pair of experienced snake wranglers, Yellow Dog and Brown Dog.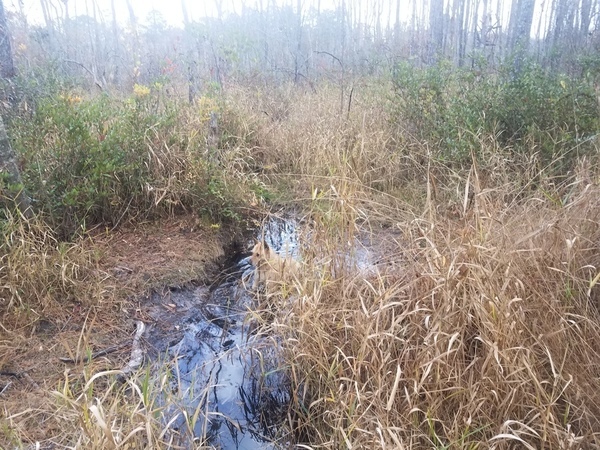 We didn't see it, either.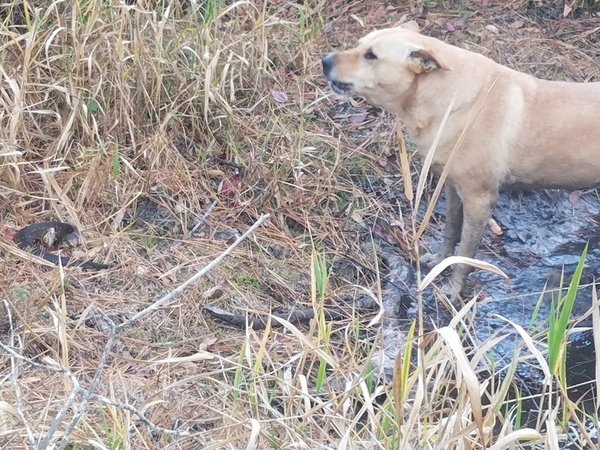 I did try to call off the dogs, but while they will back off from a rattlesnake, they will not let a moccasin go. Don't worry; cottonmouths are in no way endangered; they are are "least concern", and we've got plenty of them.
Here's a video:

Cottonmouth moccasin v Yellow Dog and Brown Dog @ OPF 2016-11-29
Brown Dog, Yellow Dog, Cottonmouth Moccassin, John S. Quarterman, Gretchen Quarterman,
Video by John S. Quarterman for Okra Paradise Farms, Lowndes County, Georgia, 29 November 2016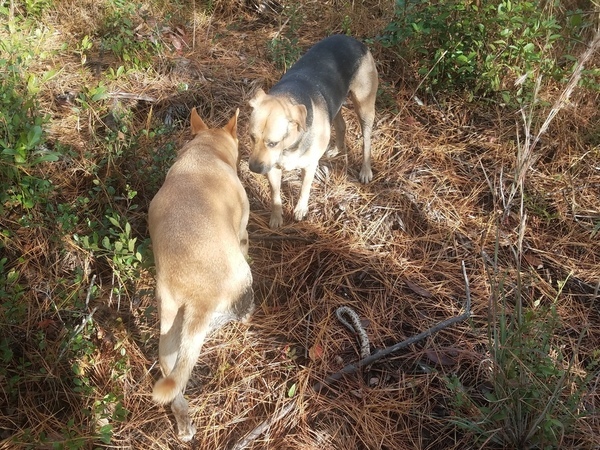 Yellow Dog has multiple scars from previous encounters. Both dogs have wattles from snake bites. They're much more cautious than they used to be, but even more effective.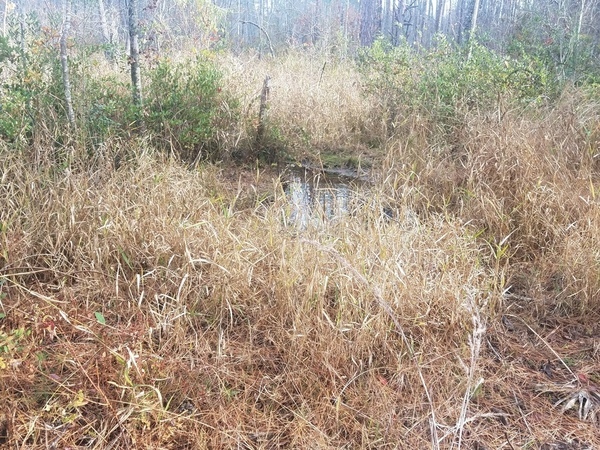 Even beavers can't keep in rain that doesn't fall.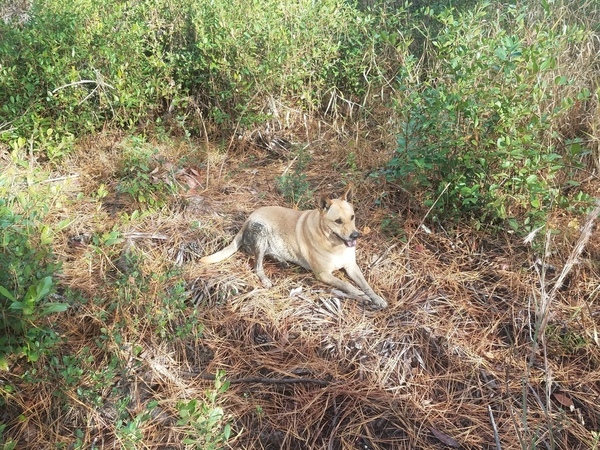 If you'd like to find an Agkistrodon piscivorus (hooked-tooth fish-eater), according to The IUCN Red List of Threatened Species&tm;, the same that lists it as not threatened at all:
This snake occurs in a wide range of aquatic and wetland habitats: swamps, sloughs, delta bayous, bayheads, ponds and streams in pine flatwoods, pine-palmetto forest, offshore keys, marshes, river bottoms, lowland floodplains, tidal stream courses, dune and beach areas, clear upland brooks, drainage ditches in some southern cities, brackish waters, and sometimes salt marshes (Ernst and Ernst 2003, Campbell and Lamar 2004). Cottonmouths may aggregate under waterbird rookeries. Hibernation sites include rocky wooded hillsides, in crayfish burrows, under rotting stumps or other cover, or in burrows of mammals (e.g., beavers, muskrats) or tortoises.
In this pond they can't be eating many fish, because there aren't any. They also eat mice and rats, and I would guess frogs.
We do look for them all the time to avoid stepping on them.
The species is actually threatened by habitat loss, as anyone can see and as the same source notes:
From a range-wide perspective, no major threats are known. Locally, threats include wetland drainage for agriculture, residential and commercial development, and forestry, and disturbance and direct killing by humans (Blem and Blem 1995).
Right now the water is very low in our pond due to no rain. Even the industrious beavers can't keep in water if there's none to dam up.
-jsq
Short Link: