David Leon Quarterman was born April 29, 1946, in Little Griffin Hospital, Valdosta, Lowndes County, Georgia, to Laura Elizabeth Hargreaves Quarterman and David Sinclair Quarterman, Jr. He grew up on Longway Farm in the north part of the county, with his parents, his grandparents, David Sinclair Quarterman Sr. and Alla Irene Peek Quarterman, and his dog Bear, joined by his brothers Stephen Patrick and John Sinclair, with frequent visits to his Hargreaves grandparents in Pearson, Leon Abraham Hargreaves and Harriet Esther Elizabeth Blitch Hargreaves.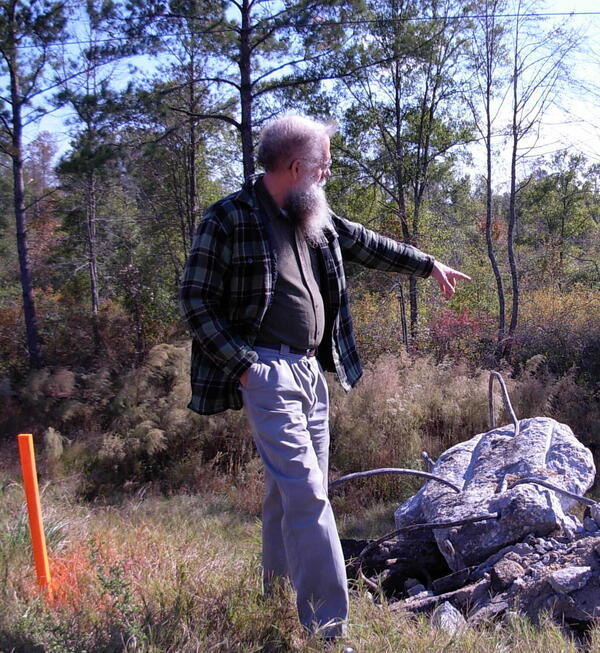 Withlacoochee River, GA 122, 2006-11-05 by Cathy Reaves Quarterman
He inherited his parents' love for reading and his grandmother's egg business, which led to a lifelong interest in farming and nutrition.
He graduated from Hahira High School and received a B.S. degree in physics from Valdosta State College. He served four years in the U.S. Navy including in the Mediterranean Sea, and had the rank of Lieutenant J.G.
He attended the University of Georgia in Athens, and worked in the computing center there.
With his aunts Jane Sinclair Quarterman Comer and Elsie Quarterman and his brothers, he published Quarterman Family of Liberty County, Georgia, and Relatives, 990 pages of family history covering more than 350 years. He assisted with an Irwin family history. He camped with family at the summer Grandfather Highland Games, where his daughter Peggy was the first female to march in the parade, on her father's shoulders, with Clan Sinclair.
He retired to the family homestead with his wife Cathy Reaves, whom he married October 28, 2000. He was well known in the community for his intelligence and wit, and as a loving, devoted, husband and father. After a long decline, he died in the presence of his wife, daughter, grandchildren, brothers, and their wives at The Orchard at Stone Creek in Lowndes County, on November 3, 2021.
He is preceded in death by his grandparents, parents, aunts, and uncles.
David is survived by his wife, Cathy Reaves Quarterman of Hahira, his daughter Margaret Campbell Quarterman Stewart (Garner), his grandchildren Margaret Sinclair Hamilton Stewart and Graden Campbell Hargreaves Stewart, all of Bumpass Virginia, his brothers Stephen Patrick (Ann) and nephew David Nicholas Quarterman, both of Nashville, Tennessee, his brother John Sinclair (Gretchen) of Lowndes County, many cousins, and brother-in-law, Don Reaves (Diane) of St. Augustine, Florida.
David will be laid to rest at a graveside service at Friendship Cemetery, 6571 Union Road, Hahira, GA on Friday, November 5, 2021, at one p. m. with Reverend Mike Davis officiating. The family will receive friends from noon until one p.m. at the cemetery.
In lieu of flowers donations may be made in David's name to Homestead Hospice, 110 East 10th St., Suite A, Tifton, GA 31794 or to The Orchard @ Stone Creek, 4900 Tillman Crossing, Hahira, GA 31632 or to Hahira United Methodist Church, 208 North Church Street, Hahira, GA 31632. Condolences to the family may be expressed online at www.mclanecares.com.
Martin McLane Funeral Home of Hahira is serving the family of Mr. Quarterman.
Short Link: