These lilies sprung up just in time for the weekend cold snap.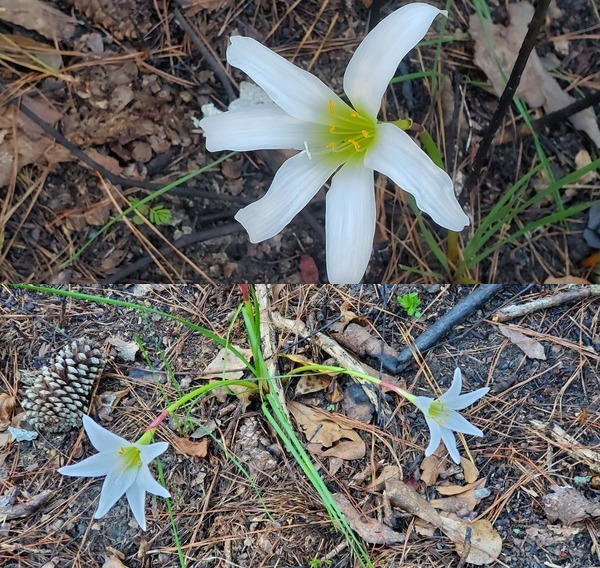 One and two Treat's Rain Lilies @ OPF 2023-02-18
Treat's rain lily, Zephyranthes atamasca var. treateiae, is a special variety that mostly grows in counties on either side of the GA-FL line. I hear there are also some in Louisiana and Alabama.
It's a variety of Atamasco lily, Zephyranthes atamasca, which is much more widespread, growing all over the southeastern U.S. coastal plain, from eastern Mississippi to southern Virginia.
"Treat's zephyrlily is distinguished from atamasco liliy (Z. atamasca var. atamasca) by its narrower leaves and a perianth tube that is more than one quarter the length of the perianth."
The perianth tube is where the base of the petals form a tube.
That quote comes from Florida Natural Areas Inventory, 1998-11-05, which actually shows Treat's Rain Lily growing as far south as Tampa.
"Populations of Zephyranthes treatiae have been known to persist through repeated annual burning," says Coastal Plain Plants.
These are growing in an area where we burned around the house on December 26, 2022.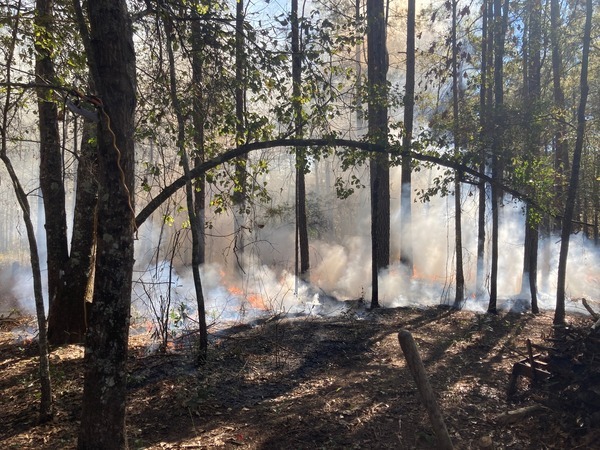 Prescribed burn around the house 2022-12-26
The same reference says for habitat: "Zephyranthes treatiae has been found in wet savannas[1], pine flatwoods, low pinelands, live oak woodlands, swamps, and xeric pine plantations."
We have them mostly in piney woods.
And that reference says: "It is also found in disturbed areas including mowed sod near flatwoods and roadsides."
They are very common in road ditches around here, especially in April, which is why they are commonly known as Easter lilies. But they are no relation to the Japanese imports sold in stores as Easter lilies. Treat's Rain Lily is native.
-jsq
Short Link: