Another successful prescribed burn at the end of 2022.
This was actually the burn of the area in which the Treat's Rain Lilies have since come up, six weeks later.
There's more to do if we ever get good conditions again, as in dry for enough days after a rain.
For those who are not familiar with prescribed burns, they are necessary to the health of pine forests. Pine trees, especially longleaf pine trees, are more resistant to fire than other trees. So burns favor pines, and without burning, oaks, sweetgums, etc. take over. And burning temporarily cuts back the gallberry, blackberry, and Smilax vine thickets that get too thick for wildlife. Quail and other birds have already moved into areas of previous burns.
Here's a video playlist:
https://youtube.com/playlist?list=PLLk2OxkA4UvyyTZYEfjLstI_3DK0QDieb

Seven-acre burn 2022-12-30

John S. Quarterman, Gretchen Quarterman,
Video by John S. Quarterman for Okra Paradise Farms.
Like some previous burns, just one match started it all. We spread the fire with pinestraw on rakes.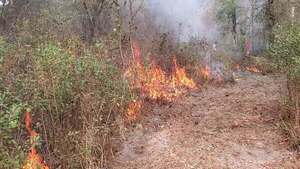 Movie: Southeast corner mostly gallberry (36M)
Gallberry is everywhere. If you want to know why it's called that, taste some.
Thanks to our neighbor helper.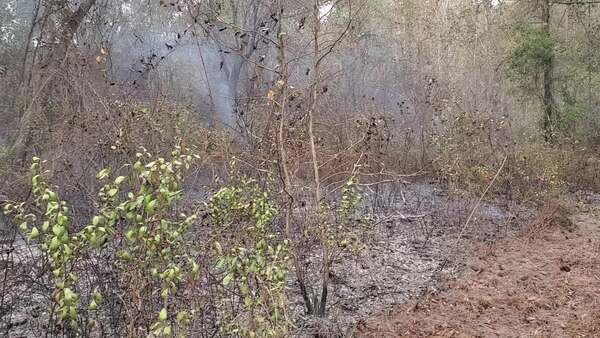 Movie: Southeast corner burning nicely (21M)
Clearly we waited a year or two too long to burn this area, or it wouldn't have burned this hot.
But mostly it burned like this, which is just what you want: a low burn less than a foot high, slowly moving on its on in a gentle breeze.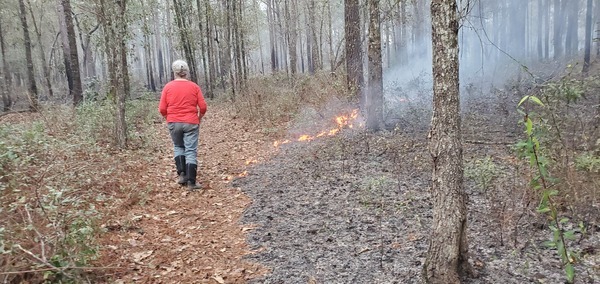 Gretchen on a path the fire eventually crossed
Blondie ain't afraid of no fire. Honeybun and Arrow keep their distance more from fire.
-jsq
Short Link: