So who owns the land
where the old Valdosta train stations were?
The old Atlantic Coast Line station lot, at the U-turn between Patterson and Ashley just north of the downtown overpass, is owned by the City of Valdosta. That's kind of moot, since there are no tracks there now.
The old Georgia & Florida Station lot between Toombs and Patterson and between Savannah and Florida is owned by Lowndes County, as shown here: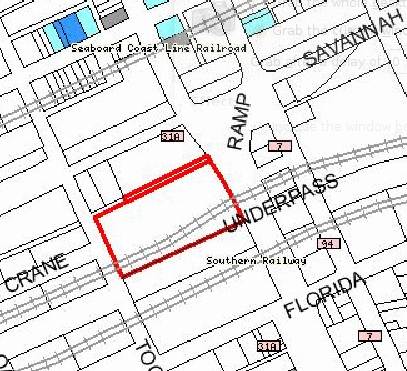 As found on Lowndes County Property Record Search by searching for owner CSX.
The county Health Department is in the middle of it, but the tracks run against the back parking lot. These are the tracks that go to Moody.
And the old Georgia and Florida station lot, just south of that, is owned by CSX, as part of a strip along their tracks from Toombs St. to Railroad Ave.:
CSX TRANSPORTATION INC
TAX DEPARTMENT C-910
500 WATER STREET
JACKSONVILLE, FL 32202
The old GSF Station lot, just south of that, between Toombs and Patterson and north of Florida Ave., is owned by Norfolk and Southern.
NORFOLK SOUTHERN RAILWAY CO & SUBSID
C/O GULF & OHIO RAILWAYS
PO BOX 2408
KNOXVILLE, TN 379012408
It looks from the aerial maps like it's being used for a park, and there's some sort of tiny building on it, too. These are the tracks that go to Hahira, Mineola, Remerton, Dasher, and Lake Park.
If you select aerial photography you'll see that the tracks are currently located slightly differently than the map above shows.
However, it appears that new Valdosta train stations could be constructed with agreement from nobody other than Lowndes County and the railroads. Well, them and the planning commission, and the county commission, and the Valdosta City Council, and the various cities the passenger service would run to. But the Valdosta station land itself seems to be in the hands of a small number of appropriate parties.