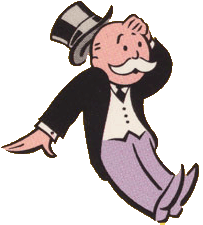 More on some
welcome news,
, this time from
William Neuman in the New York Times:
The Justice Department began an antitrust investigation of the seed industry last year, with an apparent focus on Monsanto, which controls much of the market for the expensive bioengineered traits that make crops resistant to insect pests and herbicides.
Why?
Critics charge that Monsanto has used license agreements with smaller seed companies to gain an unfair advantage over competitors and to block cheaper generic versions of its seeds from eventually entering the market. DuPont, a rival company, also claims Monsanto has unfairly barred it from combining biotech traits in a way that would benefit farmers.
Monsanto of course claims to be unfairly maligned, and its CEO, Hugh Grant, says:
"We were the first out of the blocks, and I think what you see now is a bunch of people catching up and aggressively competing, and I'm fighting with them," Mr. Grant said. He said farmers chose the company's products because they liked the results in the field, not because of any untoward conduct on Monsanto's part.
Reality seems to differ:
During the depths of the economic crisis last year, the prices for many goods held steady or even dropped. But on American farms, the picture was far different, as farmers watched the price they paid for seeds skyrocket. Corn seed prices rose 32 percent; soybean seeds were up 24 percent.
Including the sharp increases last year, Agriculture Department figures show that corn seed prices have risen 135 percent since 2001. Soybean prices went up 108 percent over that period. By contrast, the Consumer Price Index rose only 20 percent in that period.
If there's so much competition, how can Monsanto get away with this?
As biotechnology has spread, Monsanto and its competitors have bought dozens of smaller seed companies, increasing the concentration of market power in the industry.
Ah, the usual way: they bought out the competition.
But Monsanto does innovate, legally, too:
Monsanto sells its own branded seed varieties, like Dekalb in corn and Asgrow in soybeans, to farmers. But it has expanded its influence and profits by licensing those traits to hundreds of small seed companies, allowing them to incorporate the traits in the seeds they sell. It has also granted licenses to the other large trait developers, allowing them to create combinations of engineered traits in a process known as stacking.
I wondered why Monsanto is making such blatant price hikes now, during a recession, when they are most noticeable. They've got a ticking clock:
DuPont made another accusation that caught the attention of farmers and regulators, saying that Monsanto was trying to head off the eventual entry into the marketplace of generic Roundup Ready seeds.

The company's patent on the Roundup Ready trait in soybeans expires before the 2014 planting season, meaning that, just as in the pharmaceutical business, rivals would be free to sell a cheaper version. Farmers would also be free to save seed from one year to the next, a money-saving step they are now barred from taking.

But DuPont charged that Monsanto was trying to force seed companies to switch prematurely to its second-generation Roundup Ready soybeans and taking other steps to make the entry of generics more difficult.
When the patent on Roundup expired, Monsanto just switched to depending on its seed patents. If its seed patents expire without new ones to replace them, it's got a problem. So Monsanto has incentive to move ahead quickly before 2014.
Short Link: