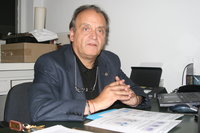 According to
Americas Program Report
:
A study released by an Argentine scientist earlier this year reports that glyphosate, patented by Monsanto under the name "Round Up," causes birth defects when applied in doses much lower than what is commonly used in soy fields.

The study was directed by a leading embryologist, Dr. Andres Carrasco, a professor and researcher at the University of Buenos Aires. In his office in the nation's top medical school, Dr. Carrasco shows me the results of the study, pulling out photos of birth defects in the embryos of frog amphibians exposed to glyphosate. The frog embryos grown in petri dishes in the photos looked like something from a futuristic horror film, creatures with visible defects—one eye the size of the head, spinal cord deformations, and kidneys that are not fully developed.

"We injected the amphibian embryo cells with glyphosate diluted to a concentration 1,500 times [less] than what is used commercially and we allowed the amphibians to grow in strictly controlled conditions." Dr. Carrasco reports that the embryos survived from a fertilized egg state until the tadpole stage, but developed obvious defects which would compromise their ability to live in their normal habitats.
Why should Argentina care?
Continue reading