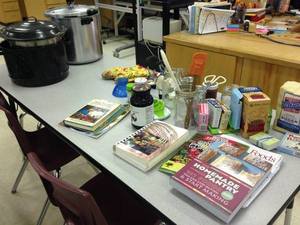 Our outing today to the canning plant was a grand success. We had peas shelled, blanched and bagged and canned some peaches!
The canning plant at Lowndes High School is a wonderful resource in Lowndes County open now to the public for shelling, canning and more. Behind the Lowndes High School on Norman Drive.
Here are pictures from the canning class I taught there yesterday, organized by the Valdosta Community Garden group. These pictures are also on facebook.
Perfect timing. The Valdosta Daily Times had an article about the canning plant, Canning plant: Preserving a way of life, by Kristin Finney, 11 June 2014,
Summertime means fresh vegetable time, which means it's time for canning. And just in time, the Lowndes County School's annual Food Processing Center and Canning Plant is open for business and welcoming customers.

Whether you need shelling, blanching, canning, jarring or peach peeling, the processing center offers it. There are facilities available to cook large amounts of soups, jellies, stews, boiled peanuts, etc. It also has an industrial-grade juicer.
The VDT article included directions:
The processing center is open 7 a.m.-2 p.m. Mondays, Wednesdays, Fridays and Saturdays. The center will be open through July 16, but will be closed on July 7 and 9.

The plant is located northwest of Martin Stadium by Interstate 75 at the north end of Lowndes High School's student parking lot and the south end of the main Lowndes High School building.

More information: Call (229) 245-2252.
-gretchen
Short Link: