Tag Archives:
Moody Air Force Base
Channels in the swamp in the afternoon:
Sunbeams: Continue reading →

Opportunity knocks
, and
what does Georgia do?
President Barack Obama's plans for a national high-speed rail network is bittersweet for Georgia.

The state is now eligible to win millions of dollars in federal funds for high-speed rail projects.

But transportation advocates say Georgia is so far behind neighboring states that the best it can hope for is money to fund more studies.
Who are these un-named "transportation advocates"? Sounds like they're "paving is progress" advocates.
Oh, my:
The department says it is changing. It has recently hired Erik Steavens to oversee rail projects, and he said he will push for a rail line linking Atlanta to Chattanooga.
Changing from thinking paving to thinking small. That's change that will miss a great opportunity. Actually
even worse than thinking small:
The only other rail project, with guaranteed cash available, is a line from Atlanta to Chattanooga that was part of a 2000 bill from the state legislature, HB 1348. In fact, the bill, which was passed when the Democrats last controlled the State House, contains plans for several lines around the state, but only the Atlanta-Chattanooga high-speed track is specifically guaranteed funding "should federal or private funds be made available for such high speed rail."

Unfortunately for Georgia legislators, though, President Obama's rail plans do not include a line between the two southern cities, meaning that if the state still wants to build that line, it needs to come up with the money itself.
Up until the 1950s Georgia had a rail system that connected almost every town in the state. The rails
from Atlanta through Macon and Valdosta to JAX
are still there, and in use constantly for freight. Sure, Valdosta would have to build a station, but those are not complicated. And somebody would have to convince CSX to share the rails. But
JAX already did that for commuter rail,
so it's possible.
5 million people in Atlanta, 3/4 million in Jacksonville, and Valdosta halfway in between….
If the same entities that repeatedly banded together to keep Moody Air Force Base (VLD, Lowndes County, VSU, state and national reps and senators, etc.) lobbied DoT (state and federal), they could do this thing. They could even use the rail line to Barretts to run commuter rail to Moody while they're at it. Here's a chance for Valdosta and Lowndes County to lead the state in making real progress.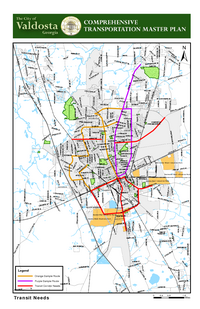 A couple of weeks ago (Wednesday, Jan 7th, 2009), I went to a public meeting on a
Transit Implementation Plan for the Valdosta Urbanized Area
. Basically, where should the proposed Valdosta bus system run? This is part of the
Valdosta Transportation Master Plan.
It was quite interesting that there was such a meeting, at which the various organizers (SGRDC, MPO, and the consultant) actively solicited input from the attendees, in both ad hoc and organized ways. First they gave a presentation and answered questions. Then they asked participants to fill out a questionnaire about where they lived, worked, and played. The presentation for that meeting is online. They even scheduled several more Public Involvement Meetings. Hm, I'm not seeing that schedule online, but presumably they'll put it up before the meetings happen.
There was pretty good attendance: several plain citizens, the mayor, a couple of city council members, a couple of county commissioners, at least one planning commission member, a member of the Zoning Board of Appeals, a newspaper reporter, etc.
If you want a bus to run near you, I'd recommend going to one of these meetings, or contacting the organizer, Corey Hull, MPO Coordinator, 229-333-5277.
Lowndes County has a Thoroughfare Plan, which is currently being revised. We'll see what the public input process for that turns out to be.