Gretchen took this yellow squash and zucchini to Wiregrass Farmers Market in Tifton, GA this morning, along with fresh-plowed potatoes, rosemary, and of course heirloom corn grits.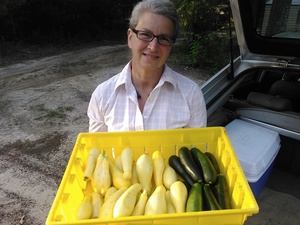 That's 9AM to noon, behind the Country Store at the Georgia Museum of Agriculture (Agrirama), 1392 Whiddon Mill Road, Tifton GA 31794.
Did you know zucchini is actually a fruit, even though it's cooked and eaten as a vegetable? And the name is Italian, because the type we eat today was developed in Italy, even though like all squash its ancestors came from the Americas? More about Cucurbita pepo, also known as courgette or vegetable marrow, by Master Gardener Laurel Reader, Zucchini: A Treat in the Heat.
Market day doesn't smell right without rosemary. Continue reading →